Let's get to know each other
About me
Hi, I'm
Filip Surowiak
Since I was little motorbikes fascinated me. My journey started when I was 6 years old with a Honda CRF 50cc on kart track.
In 2020 (11 years old) I joined prestigious Mini GP races organized by FAB-Racing in the UK. My debut on the Metrakit 50cc got me 14th place in the general classification for 24 riders in my category.
Year 2021 was a huge step forward for me, as I moved to GP70 class. In 21 races I achieved 17 podiums, including 2 races won, which meant 3rd place In the Championship.
Upcoming season 2022 will be even more exciting - I join British Talent Cup on a genuine MOTO3 bike! Wish me luck!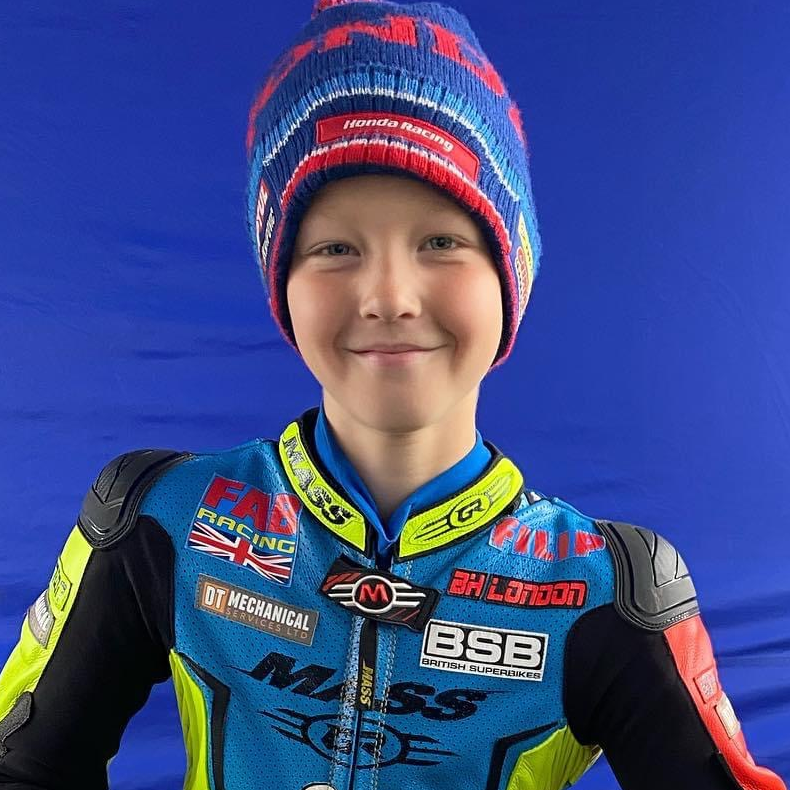 Guys that make this happen
Our Awesome Sponsors
My stats
Statistics for 2021 in FAB-Racing
Round 1 - Lydd Kart Circuit
16/04/21
---
Round 2 - Lydd Kart Circuit
17/04/21
---
Round 3 - Red Lodge
17/07/21
---
Round 4 - Clay Pigeon
31/07/21
---
Round 5 - Rowrah Kart Circuit
13/08/21
---
Round 6 - Ellough Park Kart Circuit
24/09/21
---
Round 7 - Llandow Kart Circuit
08/10/21
---
Podiums: 17 81%
Races completed: 21 100%
Front row starts: 9 42%
Exciting 2022
In 2022 we are proud to join:
Next race:
Track Name
date
See you next season!
FAQ
Frequently asked questions
Yes! Everybody is welcome! It is not a secret that this sport requires a lot of resources. All our sponsors are a great help to us. We will be happy to cooperate with you too.
Season 2022 will be a big deal to us. We are joining British Talent Cup – one of the most prestigious motorbike racing competitions for young riders in the world.
Every sponsor gets a logo placed on the motorbike and leathers. The British Talent Cup is broadcast on the MotoGP Platform and nationwide television network. We also tag and mention our sponsors in our social media - Facebook and Instagram. We are working on our Tiktok and Twitter - these are coming soon.